In the predominately male dominated genres of Latin Music, women have historically been underrepresented and undervalued as performers, producers, arrangers, composers, and artists. As the gender imbalance in Latin Music shifts towards a more inclusive paradigm, the role of women and social justice in Latin music have become more pronounced over the last two decades. In recent years, there have been several female artists crafting new narratives and identities for women in Latin music. This includes the disruption of preexisting notions such as the subservient Latin female and the oversexualization of Latin women. This webinar features Dr. Martha Gonzalez and examines how these identities have changed across generations and how a new generation of artists will adopt and expand these narratives.
November 30, 2021
3:30 PM – 5:00 PM
Free
Latin Music Webinar Series 2021–2022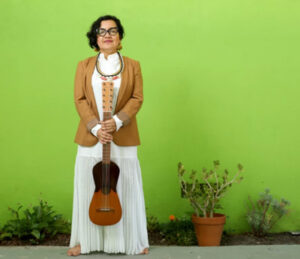 Martha Gonzalez is a Chicana Artivista (artist/activist) musician, feminist music theorist and Associate Professor in the Intercollegiate Department of Chicana/o Latina/o Studies at Scripps/Claremont College. A Fulbright (2007-2008), Ford (2012-2013) and Woodrow Wilson Fellow (2016-2017), her academic interests have been fueled by her own musicianship as a singer/songwriter and percussionist for Grammy Award (2013) winning band Quetzal. As a musician, Gonzalez has collaborated, and/or toured with artist such as Los Lobos, Jackson Brown, Jaguares, Tom Waits, Lila Downs, Taj Mahal, and Ozomatli. Dr. Gonazalez is currently serving her third year as an ASU Gammage resident artist and her book, Chican@ Artivistas: Music, Community and Transborder Tactics in East Los Angeles has been released on UT Austin Press.