Each webinar will feature a panel of therapists (art, drama, expressive arts, and dance movement) and be moderated by Dr. Kelvin Ramirez, a board-certified registered Art Therapist. All webinar sessions are free of charge and open to arts educators and college/university arts education students from across the state.
Dates: October 27, 2022, January 26, 2023, February 16, 2023, and March 23, 2023
3:30 – 5:00 P.M.
Free

The Zoom link will be sent to you prior to the webinar.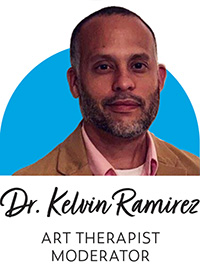 Moderator
Dr. Kelvin A. Ramirez a board-certified registered Art Therapist, has years of experience incorporating art therapy within educational systems to enhance students' personal and academic growth. A Board Member of FNEI, a 501(c)(3) non-profit based in Boston, MA, Dr. Ramirez has taken his expertise and shared them internationally, collaborating with educators, community leaders, mental health professionals, and art therapists in Nicaragua, the Dominican Republic, Haiti, Puerto Rico, India, South Korea, and Mexico. Dr. Ramirez is the Executive Producer of Art Therapy: The Movie (2016), an independent film that explores the healing power of artistic expression through art therapy, and Love in the Making (2017), a thought-provoking independent film, that examines why we fall in love, what keeps us together, and what pulls us apart? Recently, Dr. Ramirez collaborated with community leaders in Juarez, Mexico through his initiative, "No Longer Bystanders" which focuses on supporting the complex mental health needs of asylum seekers. Currently, Dr. Ramirez is an Associate Professor in the Division of Expressive Arts Therapies with dual appointments in the Graduate School of Education at Lesley University, Cambridge, MA. Additionally, Dr. Ramirez served as a visiting professor for the Integrated Arts Therapy Doctoral Program at Ewha University, Seoul, South Korea.
Panelists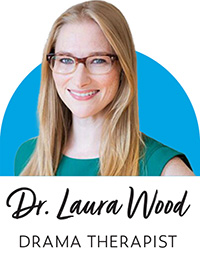 Dr. Laura L. Wood is an Associate Professor at Lesley University and the Coordinator for the Clinical Mental Health Counseling and Drama Therapy Program. She is a Registered Drama Therapist, Board Certified Trainer, Licensed Clinical Mental Health Counselor, and a Certified Child Life Specialist. Dr. Wood is a Past President of the North American Drama Therapy Association (NADTA). Her focus and research areas include the treatment of trauma and dissociation, eating disorders, attachment, recovery, and grief/loss. More specifically, Dr. Wood is interested in how therapeutic theater can support individuals in various forms of recovery. She created the CoActive Therapeutic Theater (CoATT) Model with her colleague Dave Mowers. CoATT is the first manualized model of therapeutic theater. Dr. Wood is a co-collaborator with the UMASS Mind Team and received a National Endowment for the Arts grant using the CoATT Model with individuals in mental health recovery. Her co-authored book: Finding Recovery and Reconnection Through Performance: The CoActive Therapeutic Theater Manual is set to be published in early 2023 through Routledge. Dr. Wood presents, publishes, supervises, and consults nationally and internationally.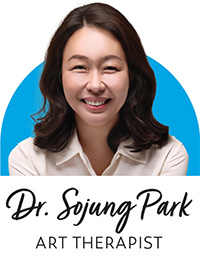 Dr. Sojung Park, Ph.D., ATR-BC, LCAT, is an assistant professor in the Graduate School of Education, Art Therapy Major, at the Hofstra University in Hempstead, NY. Dr. Park earned her master's degree in art therapy at the School of Visual Arts in New York, NY, and doctorate in Expressive Therapies at Lesley University, Cambridge, MA. She has years of experience working with individuaIs with mental illnesses and addiction in the United States. Upon moving to Korea, Dr. Park has dedicated herself to teaching and training future art therapists at Ewha Womans University in Seoul, Korea. As a researcher Dr. Park has explored multiculturalism, psychiatric and/or addiction, and community-based practice and social action within art therapy. She is a recipient of the 2020 Pearlie Roberson Scholarship Award from the American Art Therapy Association. Dr. Park is an active member of the editorial board for the journal of the American Art Therapy Association and the multicultural committee of the American Art Therapy Association.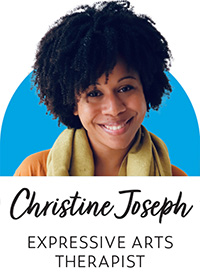 Ms. Christine Joseph is an Expressive Arts Therapist who has dedicated the last ten years supporting the emotional needs of her clients, predominantly boys and men in correctional settings. She received a master's degree in Expressive Arts Therapy at Lesley University and her B.A. in Women's Studies from the University of Florida. Ms. Joseph utilizes an intermodal expressive therapy's framework that includes music, drama, poetry, movement, art, and narrative writing which enhances communication and connection within the therapeutic process and with oneself. Ms. Christine Joseph has worked both globally and nationally. She has provided psychoeducational trainings to community and high school members on the effects of trauma, understanding human sexuality and gender, substance abuse and prevention, depression, and suicide. She was invited to speak on her experiences working with incarcerated youth by the University of Florida, Lesley University, and Instituto de Psicotraumatologia de Puerto Rico. As a Juvenile Detention Clinician, she received the Outstanding Achievement Award for "going beyond the call duty." Currently an Adjunct Professor, Ms. Joseph teaches Human Development and Principles and Practices of Expressive Arts Therapy. Ms. Joseph continually affirms the power of the arts as a vehicle of empowerment and affirms the notion that the authentic self is what creates a successful therapeutic experience for both the client and the therapist.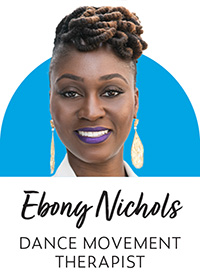 Ms. Ebony T. Nichols M.A., BC-DMT, LCAT is a somatic mental health and wellness practitioner, Board Certified – Dance/Movement Psychotherapist, Licensed Creative Arts Therapist, and adjunct professor. Ebony has experience in partial hospitalization/inpatient psychiatry and mental health care facilities, working with psychotic and behavioral health concerns, and with individuals who are developmentally diverse and experience physical, emotional, and sensory challenges. She has also worked with a non-profit organization in partnership with New York City public schools to develop social-emotional regulation from an anti-oppressive strength-based lens and has provided services internationally while exploring the dynamics of underrepresented communities. Ebony is the Multicultural and Diversity Committee Chair-Elect for the ADTA and received the honor of "The Leader of Tomorrow Award" (2019) and "The Innovation Award" (2021) by the organization. Her research is rooted in cultural/race identity, trauma-informed care, and her current work centers Black Aesthetics of the African Diaspora through cultural movement narratives, non-verbal communication, and somatic based healing practices.
Coordinator
Dr. Ahran Koo, Associate Professor of Arts Education
Department of Art, Design, & Art History at CSU Fresno
Sponsors
This webinar is presented through a collaboration between The California Arts Project and Fresno State's College of Arts and Humanities.