Join us as we examine what a black performer brings to the stage. We will consider notions of the black body — what it has been and what it can be — and how we take care of the way the black body is viewed on stage. Explore how expression, movement, and rhythmic traditions of the diaspora impact Black Theatre and performance.
February 9, 2021
4:00 P.M. – 5:00 P.M.
Free
Black Theatre Initiative's Webinar Series 2020–2021
Our Guest Artists and Scholars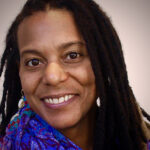 Kristi Papailler is an Assistant Professor in the Department of Theatre Arts at California State University, San Bernardino where she teaches Acting, Directing and theory courses including African American Theatre History. In addition to an MFA, Professor Papailler has a Graduate Certificate in African American Theatre and specializes in the genre. Prior to her work in academia Kristi was a co-founding producer of Juneteenth Legacy Theatre, Kentucky's only professional African American Theatre Company from 1999–2011. She is a member of The Black Theatre Network, The Association for Theatre in Higher Education and is a board member of the Ain't I a Woman Play Festival.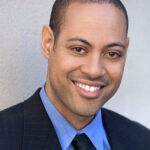 Corey Roberts is a stage artist and linguist working in movement and language as an actor, dancer, director, choreographer, and dramaturg. He has directed, choreographed, and performed in musicals, classical and contemporary stage plays, ritual performance, films, and commercials. He has taught K–University in Arizona, California, Maryland, New York, Virginia, and Brazil. His current theatre work focuses on the intersection of black and brown bodies and ways of knowing with classical Western plays. He holds graduate degrees from Virginia Commonwealth University and the University of Arizona in theatre and linguistics.
Our Webinar Moderators
Kathryn Ervin
Professor & Founding Member of The Black Theatre Network
Andre Harrington
Professor & Past President of The Black Theatre Network