July 20–22, 2021
10:00 A.M. – 1:30 P.M. (Includes a 30 minute lunch break)
$25.00
REGISTRATION FOR THIS PROGRAM IS CLOSED.
What is a summer studio?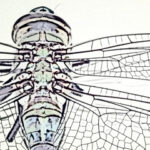 The summer studio is a hands-on three day program designed for K–12 educators. Join us as we engage in, from an artist perspective, observational drawing of the wonderful world of insects.
You'll be introduced to observational drawing, colored pencil techniques, and have time to hone your observational skills. You'll discover classroom curricular connections to the California Visual Arts Standards and the Environmental Principles and Goals. Collaborate with others in generating classroom applications for the coming new school year.
No previous drawing experience is necessary.
Where
No need to leave your home! Zoom—all sessions will be held through Zoom.
Upon completed registration, prior to July 20th, you will receive the Zoom link, additional information, and the basic program and drawing materials you'll need.
Register Now!
Pre-registration is required, along with a small $25 fee, to secure your spot in the studio.
Studio space is limited and early registration is suggested.
Registration will close on July 8. After this date, registrations may be accepted if space is available.
Once your registration and fee are received, you will be provided with the necessary zoom link and sent the materials.
Payment Information
Make check payable to: UEC at CSUSB
Mail to:
The California Arts Project (TCAP)
CSU San Bernardino
5500 University Parkway, FOB 249
San Bernardino, CA 92407
A confirmation e-mail will be sent once your registration and payment are received. If you do not receive a confirmation email by July 16, please email [email protected].