Join us as Johanna shares her ongoing exploration and mission to increase student expression and creativity through puppetry.
No puppets? No materials? No problem. Johanna shares how using available material around the home enables accessible, engaging, and effective exercises to develop creative exploration and expression.
January 14, 2021
4:00 P.M. – 5:00 P.M.
Free
Conversations with California Artists, Creatives, & Educators Webinar Series 2020–2021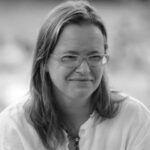 Johanna Smith is a Professor of Theatre Education and Entrepreneurship at California State University, San Bernardino, with specialties in Puppetry and Improvisation, and author of Puppetry in Theatre and Arts Education: Head, Hands, and Heart. She has worked with theatre students in many settings and directed puppet shows that have taken her and her students around the world, but she is just as happy watching her students captivate a room full of preschoolers.
She has been a part of The California Arts Project (TCAP) for many years and is particularly interested in integrated approaches to arts learning. She believes in the power of laughter and creative re-use to inspire a love of learning.