Join us as Kathleen Crocetti shares her journey as a Community Artist and Executive Director of Community Arts & Empowerment. Kathleen's public art projects have fostered youth artists, beautified the Santa Cruz area, and have demonstrated how art has the power to bring us together for the greater good.
December 16, 2020
4:00 P.M. – 5:00 P.M.
Free
Conversations with California Artists, Creatives, & Educators Webinar Series 2020–2021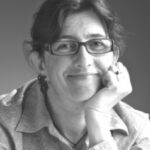 Kathleen Crocetti is a Santa Cruz, California based artist with a dual studio and public art practice. In her studio she explores her long-standing fascination with optics, color and light. Kathleen believes art is integral to a healthy society and uses her skills as a facilitator, organizer, teacher, and artist to build community, to foster youth artists and to grow a wider audience for art.
I am more than a Public Artist, I am a Community Artist. To me places have meaning, vibrancy and interest because of the people who live and work there…. I try to understand how the community identifies itself, and how they use and envision the use of their shared public space.… The journey fosters both relationships and creativity, which is why I do what I do.