TCAP's Latin Music Webinars continue with Dr. John Calloway, musician, artist, and music educator.
November 12, 2020
3:00 P.M. – 5:00 P.M.
Free
Latin Music Webinar Series 2020–2021
Join TCAP's Latin Music Initiative as we continue to explore
the intersection and relationships between Afro-Latino, Afro-Caribbean, and Afro-Cuban music,
the African diaspora's influence on contemporary Afro-Latino, Afro-Caribbean, and Afro-Cuban music and culture, and
culturally relevant instructional teaching practices.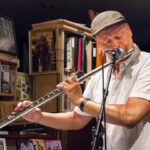 Dr. John Calloway is a nationally recognized multi-instrumentalist, composer and arranger who has simultaneously had a dual career in education for over 30 years. Known for his prolific work in jazz, Latin American and other World music styles, John has performed and toured with such internationally known jazz musicians as Dizzy Gillespie, Charles Musselwhite, Arturo Sandoval, Israel "Cachao" Lopez, Max Roach, and Pete Escovedo.
As an arranger and composer, he has written for several GRAMMY nominated recording projects as well as for films, including the HBO movie "Hemingway & Gelhorn." As a music director, John has taught at the Stanford Jazz Workshop, JazzCampWest, the Monterey Jazz Festival Summer Camp, La Escuela Nacional de Arte in Habana, Cuba, and currently directs the Latin Jazz Youth Ensemble of San Francisco and the Afro-Cuban Ensemble of San Francisco State University. John has several recording projects of his own. His latest CD "Asere Ko," was released in 2016, which is in addition to his two previous recordings "The Code" (2007) and "Diaspora" (2001).
He spent 35 years as an educator in the San Francisco Unified School District and has also been a long-time faculty member at San Francisco State University in the School of Music, including his directorship of its Afro-Cuban Ensemble since 1999. He also teaches courses in Latinx music and culture and Afro-Latinx history and culture for the College of Ethnic Studies. Dr. Calloway has been recognized by the Jazz Journalists Association with the Jazz Hero Award in 2012.
Dr. Calloway is a community activist and a long time social justice and cultural advocate.