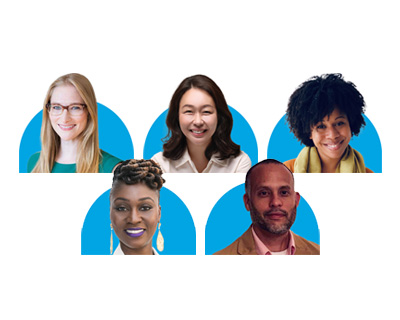 Thriving Through the Arts: Supporting Arts Educators' Well-being and Social and Emotional Capacity
Each webinar will feature a panel of therapists (art, drama, expressive arts, and dance movement) and be moderated by Dr. Kelvin Ramirez, a board-certified registered Art Therapist. All webinar sessions are free of charge and open to arts educators and college/university arts education students from across the state.
Dates: October 27, 2022, January 26, 2023, February 16, 2023, and March 23, 2023
3:30 – 5:00 P.M.
Free


Moderator
Kelvin Ramirez, Art Therapist
Panelists
Laura Wood, Drama Therapist
Sojung Park, Art Therapist
Christine Joseph, Expressive Arts Therapist
Ebony Nichols, Dance Movement Therapist
Coordinator
Dr. Ahran Koo, Associate Professor of Arts Education
Department of Art, Design, & Art History at CSU Fresno
Sponsors
This webinar is presented through a collaboration between The California Arts Project and Fresno State's College of Arts and Humanities.